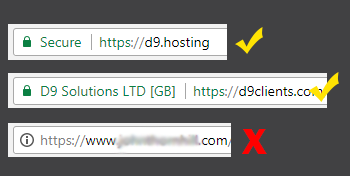 Google Chrome May Not Like Your Website
Google Chrome May Not Like Your Website
The month of July is fast approaching.
It's usually a month filled with sun, school holidays, BBQs (depending on your location!) and general merriment.
But NOT this July!
This July will see the launch of Google Chrome version 68 and one of the main new features the end user (your website visitors) will see is a "Not Secure" message displayed in the browsers address bar if your website doesn't load over HTTPS.

Google first announced that it would eventually start to mark all websites that didn't load over HTTPS as "Not Secure" back in September 2016 so webmasters have had plenty of time to prepare for this change but there are still a vast number of websites out there that DON'T load over HTTPS!
At D9 Hosting we have tried to make this as easy as possible for our clients by providing Free Comodo SSL Certificates automatically to any website hosted with us, but it's still up to you, or your webmaster, to covert your websites to ensure they load correctly via HTTPS.
If you're unsure whether your website is loading over HTTPS or HTTP you can open your website and take a look in your browsers address bar. You want to be seeing a green padlock with the "Secure" text to the right of it, as shown in the image below:

If your website displays the green padlock then you're ready for the upcoming Google Chrome changes and no further action is needed on your part.
If however you visit your website and you see something that resembles either of the images below, then work needs to be done!


In the first image above, the website is loading via HTTP, so the webmaster needs to ensure that all traffic is redirected to HTTPS by default and then also needs to ensure all elements on the page (images, javascript, stylesheets, etc) are being loaded via HTTPS and not HTTP.
The second image shows what happens when you attempt to load a website via HTTPS but the website is still loading some, or all elements via HTTP and not HTTPS. If this happens the green padlock wont be displayed as the website isn't loading all content securely over HTTPS. So the webmaster needs to go through the site and fix any elements that are still loading via HTTP. When this has been done correctly your website will display the green padlock and no "Not Secure" warning will be shown to your website visitors.
If this all sounds a little bit daunting, then DON'T WORRY, help is at hand!
Since these Google Chrome changes were first announced back in September 2016 D9 Hosting have been providing a "Done for you" service whereby we'll convert any of your websites and ensure they are loading correctly via HTTPS in time for the upcoming Google Chrome changes.
We've already converted over 1,000 websites to load correctly via HTTPS, so if you're daunted by the task of doing the conversions yourself you can find more information and order our "Done for you" HTTPS conversion package on the following page.