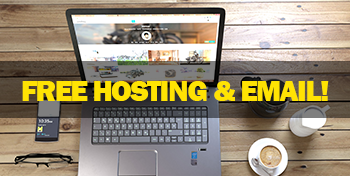 Free Hosting and Email For Businesses
Free Hosting and Email For Businesses
Starting a new business is tough.
According to Bloomberg 80% of startup businesses fail within 18 months.
There are various reasons for this:
Not in touch with your customers wants and needs
A lack of unique value in the product/service you are providing
Failure to clearly communicate the benefits of your product/service
Running out of money!
We can't help with the first 3 points but we can help you with the "running out of money" bit!
When we first started D9 Hosting back in 2007 our main issue was being able to cover our costs whilst building a customer base. When we were able to build a firm customer base we were then able to quickly start turning a profit but those first few months were hard.
That's why we're offering some help to startup businesses.
If your business is less than one year old and registered in the UK we'll be happy to offer you free web hosting and a 125 GB Hosted Exchange mailbox completely free of charge for 6 months.
This will allow you to build a web presence and communicate with your clients with your own business email address without having to worry about how you are going to fund things.
The only catch is that we would be greatful for a link back to D9 Hosting on your website, and when you become a big successful business that you stick with us for your web hosting and email needs.
The free web hosting package contains everything you need to get up and running including a free website builder if you haven't already built your business website and also offers free 1 click WordPress installations if you'd like to build your website on the WordPress platform. We can also help with any custom web design work or development that you need to get your business off the ground.
You can take advantage of our Free Hosting for Startups offer by clicking here or if you'd like more information please don't hesitate to get in touch with a member of our sales team by clicking on the "Support" link at the top of this page.