Is Google Penalizing Your Website?
Is Google Penalizing Your Website?
Is Your Site Currently Loading via HTTP or HTTPS?
If your website is currently loading insecurely via HTTP then get ready for a decrease in traffic starting in 2017.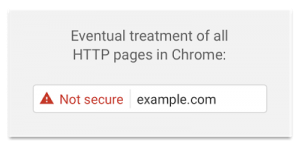 It sounds a bit dramatic, but this is what will happen to your websites if they aren't loading securely via HTTPS. This is because Google have announced that they will be labelling all websites as "Not Secure" if they don't load securely via HTTPS.
Initially, they will roll out this warning message in January 2017 to websites that collect Passwords and Credit Card details over an insecure connection and will then begin rolling out the warning to ANY website that doesn't load via HTTPS.
So How Do You Prepare For SSL Armageddon?

First of all, you need to instal an SSL Certificate on your website
However, just having an SSL Certificate installed doesn't mean that your website is going to automatically start to load securely via HTTPS!
If you try and visit your website via HTTPS you will likely still see it loads without displaying the green padlock in your browsers address bar – the green padlock indicates the page has been served securely and this is what you need to be aiming for to avoid getting your website flagged as "Not Secure" by Google.

To get the green padlock to appear this means all elements on your page (style sheets, images, javascript, etc) need to be loaded securely via HTTPS rather than HTTP. So you, or your web developer, needs to manually edit your web pages and databases (if applicable) to pull all content via HTTPS rather than HTTP. You then need to redirect all traffic to HTTPS and ensure that ALL pages on your website are loading correctly via HTTPS… for more information….. take a look at our helpful video for full information…….