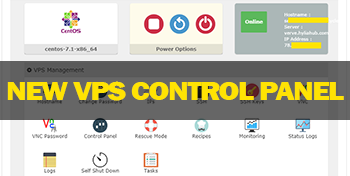 New VPS Control Panel Launched
New VPS Control Panel Launched
We are delighted to announce that we have successfully migrated all clients over to the new Virtualizor VPS control panel.
The new VPS control panel gives clients much more control of their UK and US VPS servers from within their D9 client area, without the need of logging into an additional VPS control panel.
The new, integrated control panel allows clients to perform the following actions on their VPS:
– Start
– Stop
– Reboot
– Change the root password
– Change the hostname
– Install a control panel (proceed with caution as this may wipe data already on the VPS)
– View bandwidth graphs
– View CPU and Disk Usage (depending on virtualization technology used these may not be available)
……and much more besides.
Existing VPS customers can check out the new control panel right away from within their D9 client area by clicking on Services > My Services > Manage Product
And if you're reading this and don't currently have a VPS, check out the screenshot below to see an example of the new VPS control panel in action. Remember that this control panel is integrated directly into your D9 client area, so there is no longer a need to log into an additional control panel to manage a VPS.