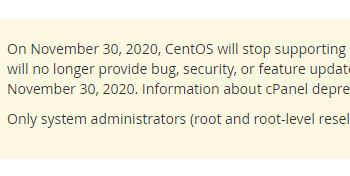 cPanel CentOS 6 Support Ending
cPanel CentOS 6 Support Ending
Eagle eyed cPanel users running either the CentOS 6 or Cloudlinux 6 operating system on their VPS or Dedicated Servers may have come across the following message when logging into the WHM control panel:
"On November 30, 2020, CentOS will stop supporting CentOS 6 on all systems, including your server. At that time CentOS will no longer provide bug, security, or feature updates. We encourage you to migrate to a server using CentOS 7 before November 30, 2020. Information about cPanel deprecation plan is available in our documentation.

Only system administrators (root and root-level resellers) see this message."

CentOS 6 (the underlying server operating system that cPanel runs on) goes end of life in November 2020 and as such any user that wants to continue to receive cPanel/WHM security patches, bug fixes or feature updates will need to migrate to a Dedicated Server or VPS running a supported operating system.
At the time of writing this article the only supported operating is CentOS 7 but it's possible that CentOS 8 cPanel compatibility may be available prior to the November 30th 2020 deadline.
How to migrate cPanel from CentOS 6 to CentOS 7
Unfortunately there is no quick and easy way to migrate an existing cPanel Dedicated Server or VPS running CentOS 6 to CentOS 7.
The only way to do the migration is to set up a brand new Dedicated Server or VPS running CentOS 7 (or CentOS 8 when supported by cPanel) and then do a migration of all accounts from the old server to the new. If you wanted to keep your existing IP addresses you would need to work with your datacenter or hosting provider to migrate IP addresses when you have completed the data migration.
If you are a D9 Hosting client running a CentOS 6 VPS or Dedicated server then we will be in touch with you at some point in mid 2020 to arrange the migration. As all of our Dedicated and Virtual Servers are fully managed the D9 Hosting team will take care of the entire migration for you, making the move as hassle free as possible.
If you aren't currently a D9 Hosting customer but are looking for somebody to do the migration for you then we offer a free website transfer service for all our clients. Simply purchase a VPS or Dedicated Server from D9 Hosting and our migration team will move all data from your old CentOS 6 server to a brand new CentOS 7 machine with zero downtime, simply select the "Free website transfer" option during checkout or get in touch with a member of our team for more details.
We do also offer a like for like price match service on all of our products so if you can find a server elsewhere for less than the D9 price, talk to a member of our sales team and we will do our best to match or beat the price you are currently paying.
Note: There has been some mention that CloudLinux may continue to support their Cloudlinux 6 operating system beyond the November 2020 deadline but as yet nothing official has been released. If you are a Cloudlinux 6 user we would recommend keeping an eye on the CloudLinux blog for an official announcement. Cloudlinux have recently announced that they will be extending Cloudlinux 6 support all the way to the end of 2024. So if you are running a Cloudlinux 6 server there is no need to upgrade to Cloudlinux 7 (unless you want to!).